Rigen Courier Service offers you all UPS services including international shipping. UPS is a worldwide leader in affordable package delivery and highly recommended by us at Rigen Courier and most of their international services are backed by their Money-Back guarantee.
With the world's leading and most experienced express network, UPS serves every ZIP code in the U.S. with fast and reliable deliveries and shipping services aimed at exceeding expectations.
UPS guarantees fast and reliable services to over 3.5 million customers worldwide. UPS services are backed by state-of-the-art technology and a seamless shipping network serving over 120,000 destinations in more than 220 countries and territories
All UPS shipments are automatically insured up to the first $100.00 coverage and trackable at no additional charge to the shipper.
Download Rate Guide
Review the UPS Rate Guide to find your shipping costs for each available service and all the information necessary to get your package prepared, processed, and shipped.
NOTICE: UPS authorizes you to use UPS tracking systems solely to track shipments tendered by or for you to UPS for delivery and for no other purpose. Any other use of UPS tracking systems and information is strictly prohibited.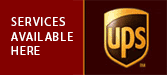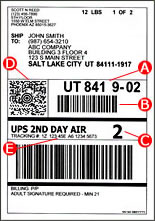 (Example of UPS Smart label)
The
Smart Label
gives us an overview of where a package is going, and when it needs to get there. Loaded with information, the label contains barcodes, distinctive alphanumeric sequences, and omnidirectional 2D symbology readable by scanning cameras.
The information contained in a Smart-Label barcode can benefit you significantly. Among these, a UPS Smart Label provides you with the following:
Increased reliability, since the barcode contains data imported directly from our system
Improved transit time, because smart-label packages pass through UPS systems at top speed
Access to value-added services reserved for packages with UPS Smart Labels